Waddenvereniging viert 50 jaar met Werelderfgoedweken
De Waddenvereniging bestaat 50 jaar. Hoogtepunt in het werk van de Waddenvereniging is de benoeming door Unesco van de Waddenzee als Werelderfgoed in 2009. Tijdens de Werelderfgoedweken kun je ook in het jubileumjaar dit bijzondere gebied ervaren en ontdekken.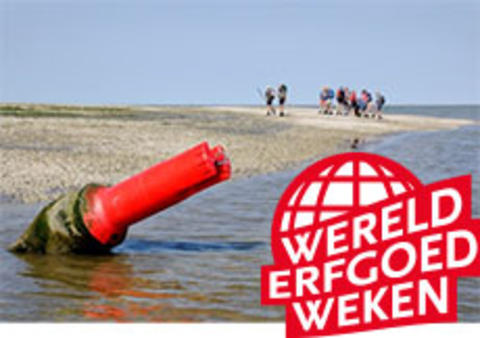 De Werelderfgoedweken bestaan uit een reeks bijzondere en vaak eenmalige excursies in het waddengebied. Dit jaar is er extra aandacht voor licht en duisternis. Leer navigeren op de sterren of overnacht op een klassiek zeilschip tijdens de Midzomernacht. Met de Vrije Wadlopers maken we midden in de nacht wandelend de oversteek naar Ameland. De Werelderfgoedweken zijn een initiatief van de Waddenvereniging, in samenwerking met lokale ondernemers.
Voelen, ruiken, proeven, horen
Tijdens de Werelderfgoedweken daagt de Waddenvereniging deelnemers uit om met alle zintuigen het Werelderfgoed Waddenzee te ervaren. De dynamiek en geweldige natuurkrachten voelen, het stelsel van geulen en platen zien vanuit een nieuw perspectief, luisteren naar de stilte of het geluid van miljoenen vogels. Tijdens elke excursie bekijk je het waddengebied vanuit een compleet nieuw perspectief. Er is een hele wereld te ontdekken!
Van inpoldering naar Werelderfgoed
Het is nu bijna niet meer voor te stellen, maar vijftig jaar geleden waren er vergevorderde plannen om grote delen van de Waddenzee in te polderen. In die tijd werd de Waddenzee gezien als waardeloze moddervlakte. Op initiatief van de toen zestienjarige Kees Wevers en een vijftiental wadliefhebbers werd daarop in hotel Zeezicht in Harlingen de Landelijke Vereniging tot Behoud van de Waddenzee opgericht. Een halve eeuw later wordt de Waddenzee wereldwijd erkend als uniek natuurgebied. Onmisbaar voor de miljoenen vogels en andere dieren die er komen om te rusten en op te vetten voor hun trektochten, maar ook voor mensen. Het waddengebied is een van de laatste plekken in Nederland waar je zoveel rust, ruimte en natuur kunt ervaren.
De Werelderfgoedweken zijn van half juni en half september. Alle excursies kun je nu al boeken op www.werelderfgoedweken.nl.
bron: Waddenvereniging