Interactieve website 'beleefdewaddennatuur.nl' gelanceerd
Vandaag gaat in het kader van het project 'Rust voor Vogels, Ruimte voor mensen' de website beleefdewaddennatuur.nl in première. Deze perfecte toegangspoort tot de waddennatuur bevat talloze tips, fiets- en wandelroutes, de mooiste natuurplekken en een complete natuuragenda.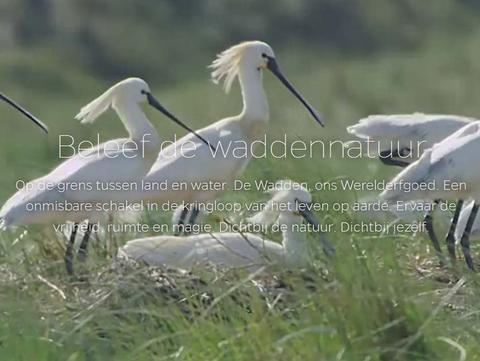 Uniek is de natuurradar: in één oogopslag zie je op de interactieve kaart waar er die dag bijzondere vogels of zeehonden zijn gezien. De kaart heeft verschillende filters die je aan- of uit kunt zetten. Zo zie je direct waar er bijvoorbeeld een wandeling begint, of een uitzichtpunt is, of een lepelaar is gezien.
De nieuwe website valt op door de vormgeving; bewegende natuurbeelden en prachtige fotografie zetten de sfeer van de Wadden neer.
Neem een kijkje op www.beleefdewaddennatuur.nl: een perfect startpunt voor een (korte) vakantie op de Wadden!
bron: Vogelbescherming Nederland via natuurbericht.nl